Hello All! It's Wednesday and we're right in the middle of the week. Two more days and there is the weekend! And what comes with the weekend?! Weekend Watches from Coffee From Space!!!! So get ready with microwave popcorn people! We have two movies to watch this weekend! This week I'm gonna pick a movie that is fun for the whole family! Kids! Grandmas! Husbands! All welcome!
Hotel Transylvania
I'm talking about Adam Sandler's Hotel Transylvania! This awesome, funny, animated movie has everything! A great story, wonderful imagination, perfect casting and did I mention Adam Sandler yet? 😀 So haven't you all lived scared of that monster that lives under your bed?! Joke's on you! Turns out they're scared of us! They don't grab you and drink blood anymore! They've got blood supplements! Once Adam Sandler became Dracula, all the violent stuff ended! Now Count Dracula runs a hotel for monsters, a safe haven far from evil humans coz monsters need to get away too! He lives there with his precious daughter Mavis whom he loves more than anything else. And then, beating all odds, a human finds his way to the hotel and Count Dracula is afraid he's gonna drive away all the monsters. Things take a turn when Johnnystein, the human, falls in love with Mavis. Drac does everything to separate them but later works hard to get them back together because they 'zinged'!
Apart from being funny, this movie has the message about how we discriminate against people based on prejudice or old experiences. Most of the time we are afraid of things because we're just used to being afraid of them rather than giving them a try again. It also shows how far we're coming along to be more accepting and understanding of each other. Try putting all that in a hilarious, cool story and we have Hotel Transylvania! 
Hotel Transylvania 2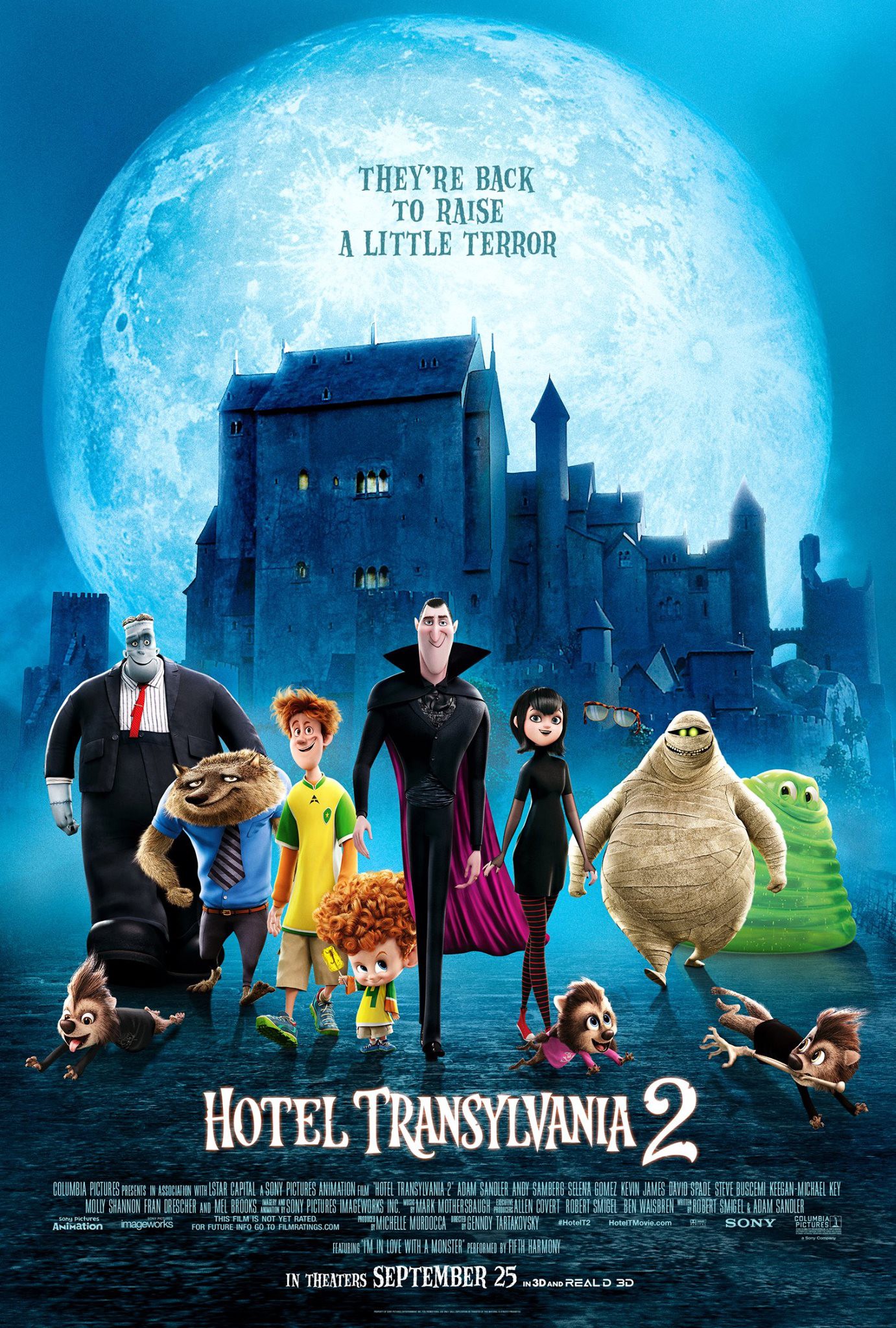 Oh Yeah! Was I glad when they made Part 2!!! You will not spend a minute without laughing! Guess what?! Count Dracula becomes a Vampa! Lost? That's Vampire Grandpa! Come on people, that's just obvious! 😀 Grandpa Drac and cute li'l Denisovich (Dennis in human) get together for crazy adventures which mostly involve bringing out the vampire in Dennis! Mavis becomes almost as overprotective as Drac used to be and Johnnystein is still cool, funny and just sooo Andy Samberg! Frankenstein and his monsters are all with Drac as always goofing it up and helping with his crazy ideas. And then we get to see great vampa Vlad! So is Denisovitch a vampire or just plain Dennis? Is great Vampa Vlad all lovey and fun like all great vampas? And how cool is the new monster Kakie the Cake Monster?! Watch this weekend and find out!!! 
Hotel Transylvania 3
Ohh Yeaaaa! That's happening this year! July 2018, we're gonna see the third part of this delicious monstery goodness!!! And this time they're on vacation! The trailer seems to suggest that Count Dracula finds love (or does he?) Personally I can't wait for it to be July! The monsters and humans all on a cruise vacation! So before they go on vacation, watch the first two movies or the monsters under your bed will probably think you don't accept them! Don't set humans back millions of years! Watch a movie! Just kidding! Have a fun weekend!